<!-ShowPage(index.html)->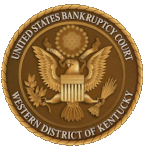 Welcome to the U.S. Bankruptcy Court for the Western District of Kentucky
Western District of Kentucky - Document Filing System
-- Version 5.3.4 --

<!-ShowPage(OperationNotice.htm)->
---
THIS SYSTEM IS FOR AUTHORIZED USE ONLY
This is a federal computer system and is the property of the United States government. It is for authorized use only.

Users (authorized or unauthorized) have no expectation of privacy in their use of the system. Any or all uses of this system may be intercepted, monitored, recorded, copied, audited, inspected, and disclosed to authorized court personnel, and referred by them to law enforcement or others as appropriate. By using this system, the user consents to such interception, monitoring, recording, copying, auditing, inspection, and disclosure at the discretion of authorized court personnel. Unauthorized use of this system may result in administrative disciplinary action and civil and criminal penalties.

By continuing to use this system you indicate your awareness of and consent to these conditions of use. LOG OFF IMMEDIATELY if you do not agree to the conditions stated in this warning.
SYSTEM MAINTENANCE
No maintenance is scheduled at this time.
SYSTEM ANNOUNCEMENTS
11/16/2020
Changes to the following Federal Rules of Bankruptcy Procedure will be effective on December 1, 2020: 2002; 2004; 8012; 8013; 8015; and 8021. In addition, a number of bankruptcy filing and service fees will be increasing due to inflation. For more information, please see the Court's website.
06/16/2020
Effective June 29, 2020, the Bankruptcy Clerk's Office will be open Monday through Friday, 10am – 2pm Eastern Time. Please visit the Court's website for the statement from Chief Judge Alan C. Stout.
---
7May2021
Court Information